All About Honeybourne Mouldings
Honeybourne Mouldings began in Alcester, Warwickshire in 1979 as a family business fabricating glass fibre mouldings for popular cars many of which are now regarded as classics. In 2002 the company relocated to our present site in Bidford on Avon. Thirty years ago Honeybourne Mouldings started with mini front ends and Morris 1000 (Morris Minor) wings and has now amassed a vast collection of moulds from popular 60's to 80's cars to fully assembled sports car hardtops for the MGB, MGF, Midget, MX5, Triumph TR Series 2-6 and a whole host of makes and models.
Similarly, our huge database of customers follow a wide range of car makes and models and rely on Honeybourne Mouldings for panels for their vehicles. Where possible many of our mouldings have been taken from original steel panels and are made to order on site in heavy duty as standard . We love a challenge and with our vast collection of moulds we may just have your elusive part - try us!
Race and Rally customers turn to Honeybourne Mouldings too with our specially manufactured 'race weight' glass fibre panels offering significant weight reductions in their cars. Our popular panels include front ends, bonnets, wings, boots, doors and smaller panels such as wheelarches, front and rear valances. 'Race Weight' must be specified at time of order.
Finally, our assembled all-weather hard tops for many MG and Triumph convertibles enable these classic cars to be enjoyed all year round. Each hand crafted hard top is a stylish, practical addition to these marques with hard tops for the E Type Jaguar, Sunbeam Alpine/Tiger and the Mazda MX5 also available.
So, for a replacement, lightweight panel that is guaranteed never to rust - call Honeybourne Mouldings, today!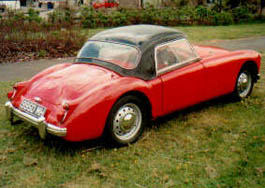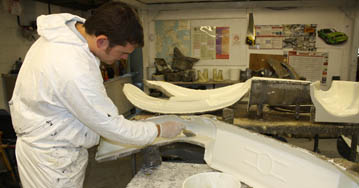 Above: Fully assembled hardtop fitted to a MGA (left) and our Workshop (right) where Honeybourne Mouldings use their huge collection of moulds to reproduce panels using fibreglass.
Honeybourne Mouldings supply both the trade and end consumers good quality, heavy duty panels for many models of car. Each panel is hand made in our workshop to order and can be supplied in a number of different finishes; from panels ready for paint preparation to hard tops ready to fit with our high gloss gel coats.
Our collection of moulds is vast, with many classic cars catered for from in particular the 60's to 80's. All our panels can be supplied lightweight for race and rally cars. We can also quote to produce a mould from your own pattern.